Youth Leadership Academy Now Enrolling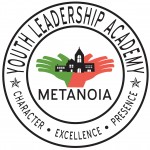 Dear Parent or Guardian,                                                                    
The Metanoia Youth Leadership Academy (MYLA) builds leaders of character, excellence and presence. We invite Chicora Elementary students to apply and accept those who exhibit leadership potential. MYLA meets every day after school at St. Matthew Baptist Church.  Transportation from Chicora is provided.
What does the program offer?  While at MYLA your child will receive homework help, a healthy snack, and will participate in leadership building activities. We provide a safe and positive place for children to spend their afternoon hours.  We offer a low student/counselor ratio: one counselor per 10 students.  This allows for more attention during homework time and small group activities that help meet our standards.
How much does it cost? The program is not free.   Parents can pay with their time and/or money.  We "charge" parents or guardians four (4) parent credit hours per month or $10 per credit.  Examples of ways to earn credits are: attend Family Nights and other activities at Metanoia, PTO meetings at Chicora Elementary, spend an hour in your child's class at school, attend community council meetings, etc.  There are many ways to give back to our community!  If you are unable to offer your time, you will be charged $10 per credit, or $40 a month. 
What about the summer?  Metanoia sponsors the Children's Defense Fund Freedom School, a six week reading enrichment program during the summer months.  This is a high demand program that has a long waiting list every year.  As a participant in MYLA, your child's summer application is automatically accepted with no wait!
How do I enroll my child? 
Step 1:             Complete the following: 1) Enrollment Form, 2) Parent Entrance Survey, 3) Teacher Recommendation Form, and 4) signed copy of each page of the Parent Manual.  Submit completed forms to:
                                                                        Metanoia Youth Leadership Academy
                                                                        2005 Reynolds Avenue
                                                                        North Charleston, SC 29405
                                                                        (St. Matthew Church)
                                                                        use the Grayson Street entrance, using the red door.
Step 2:             Make an appointment for a parent interview and orientation with director, Erica Briggs, by calling (843) 743-4813 or e-mail erica@pushingforward.org
Step 3:             After the interview and orientation, we will contact the school and your child can begin the next day!
We look forward to developing a partnership with you and your family.
Sincerely,
Erica Briggs, M.P.S.
Director, Elementary Leadership Development
Metanoia Youth Leadership Academy
(843) 529-3014