When Things Go "Boom"!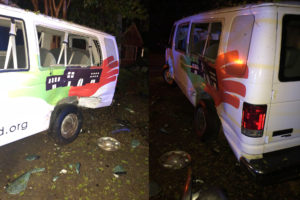 In the early morning hours of an inspirational trip to Atlanta where students visited college campuses, our high school scholars and accompanying staff were fast asleep in their beds. A loud "Boom!" from somewhere in close vicinity woke Craig Logan, our Middle and High School Coordinator, and sent him racing to check the students. Everything was quiet in the house and each student was still sleeping. Craig peered out the windows still trying to discover what caused the loud noise. With darkness still blanketing the outside, at first nothing seemed to be wrong. Then, he saw some lights and movement in the front yard. As Craig walked out of the home, curiosity turned to shock as he saw our Metanoia van crushed against a tree and the crunched wreckage of another vehicle a few hundred yards away. The driver was safe but understandably shaken. While traveling home, the driver had lost control of her vehicle and run off the road, running into the van and pushing it into a perfectly positioned tree that kept both from traveling into the first floor where some of our students still lay sleeping. It was determined that there was no negligence. Thankfully, the students, staff, and the driver of the vehicle were safe. As the students began to awaken, they were a little shaken by the near miss.
Both Stacy Brown, Director of Operations for Metanoia's Youth Leadership Academy, and Tara Veronee, our Controller, went to work extending the group's stay until travel alternatives could be arranged. Luckily, we were able to get some rental vans and had enough staff present to get everyone home safe and sound!
We are lucky to have had this van to support trips like the one to Atlanta, our annual Middle School Trip to DC, and to transport student mentors from the College of Charleston, the Citadel, mission groups, and other volunteers around our community. It also comes in handy for taking our partners and supporters on tours around as well. As Metanoia's Children Defense Fund Freedom School approaches and we begin to plan out our Friday field trips, we are missing our van dearly! However, our gratitude for the safety of everyone involved is most prominent in our hearts and minds as we appreciate a safe end to an eventful trip!  The van was broken beyond repair and although we will receive an insurance payment to cover a portion of a vehicle to replace this van, we welcome gifts to help us close the gap between what the insurance will pay and what a new van will cost.