Love in a Lunchbox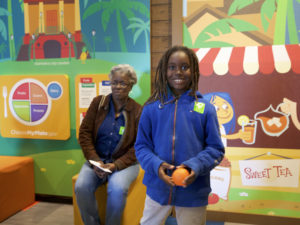 Many of us have warm feelings when we remember opening a lunch bag or box packed by our caregiver growing up.  The way the contents were packed told us we had value to the person that did the packing.   When our Youth Leaders went to the Children's Museum of the Lowcountry on a field trip this spring, the lunch bags were carefully packed for our children with turkey sandwiches, the mayonnaise was withheld until on location so that the bread didn't become soggy on the way.  The forethought in these tiny details are executed with love and obligation for our children. 
Ms. Constance Myers, a fellow Metanoian, has been preparing lunches for our children of the Youth Leadership Academy for a decade.  Quietly, patiently and with such dignity, Ms. Constance works in our kitchen, after finishing her first job at the Dixie furniture store on Rivers Avenue.  She comes to us afterwards, so our children of Metanoia have the nourishment they need to keep our yearning and learning minds running at top shape.  As Ms. Constance says, "You remember that lunch all these years later because it was packed with love."  And, as many educators, counselors, pastors or teachers may come and go in our children's lives, Ms. Constance is a constant on which every child can depend.
These lunches, and Ms. Constance's impact on our children's well being, is a fine example of the importance of folks outside the family focusing our collective unity and community to build a better, more beloved society.  It does take the village to rear the child.