Listening and Responding When You Cannot Do It All
To do effective work with the community we need to have the capacity (staffing, resources, expertise) to do that work. We also need the passion to keep going at it even when it is discouraging; and we must be responding to a real and identified community concern.
This past month, Metanoia partnered with the Chicora and Union Heights Neighborhood Councils to host our annual Town Hall Meeting at the new Chicora Elementary School Campus. The connotations around the name "Town Hall" have recently changed in meaning (honestly, our event will remain annual, but it might not be called a Town Hall due to this cultural shift). However, our event remains an occasion to listen and learn from our community. This year we had about 70 people sign-in to our event with 59 of them being residents in the communities where we work. Represented were about 35% senior citizens, 40% adults of working age and the remaining 25% were community youth. We were pleased to have this good cross-section of voices.

Each year we strive to develop interactive and democratic ways to engage residents so that every voice is heard and no one person monopolizes the conversation. This year staff and board members from Metanoia facilitated several stations around issues like community safety, housing, education and economics. At each table, residents identified strengths, problems and possibilities for the community. Here are the things that were repeated the most at each table.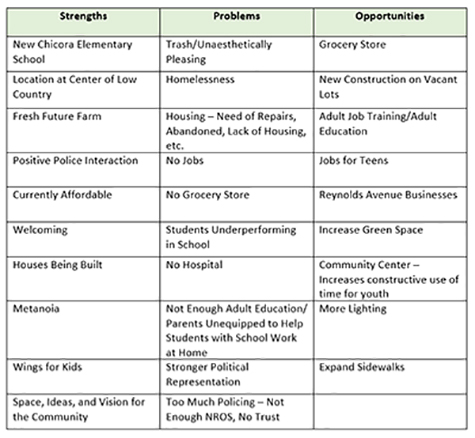 There are several interesting things about these lists. There are some items (policing, for example) that appear as both strengths and problems. There are some items that have been repeated year over year (the desire for a grocery store has been the top desire of residents each year we have had this town hall). It is also interesting how many items Metanoia has worked to positively impact. For example, the meeting this year happened in a new school building which was the result of a campaign we lead after listening to the community.
Even though we are trying to influence each of these areas, we continue to have limited resources to do so. Therefore, we have to go looking for the 'sweet spots' where our investment in community assets has the highest likelihood of success. A VIN diagram has been helpful to me in discerning where we need to turn our attention next.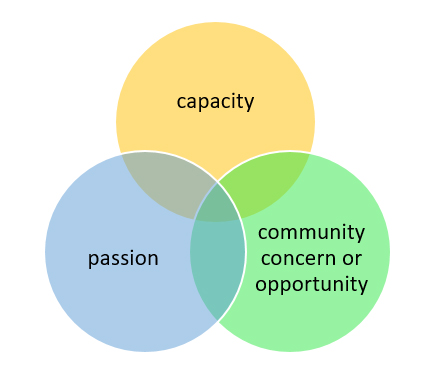 To do effective work with the community we need to have the capacity (staffing, resources, expertise) to do that work. We also need the passion to keep going at it even when it is discouraging; and we must be responding to a real and identified community concern.
While living and working in our community over the past fifteen years, I have seen how things can get a little off if we don't have these three areas covered. As a rule, there are even stereotypical groups who fall into the trap of working in two of these areas but not all three.
Government entities working in our community (Social Services, etc.), for example, often are responding to real community needs or concerns and they have the capacity to do so. However, they lack the passion that could make their work compassionate. As the result, people can feel dehumanized by engaging with those entities.
Many of our community based organizations are great at listening to community concerns and opportunities and they are exceptionally passionate. However, at times they can lack the capacity to manage solutions that address community concerns in a sustainable way. Incidentally, this is as much a problem with how decisions get made about funding as is about critical capacity issues the groups themselves may face. As the result of a lack of capacity, these groups can appear to the community as long on promises and short on results. It is not for lack of passion and effort that the performance isn't there; the capacity just needs to catch up to the passion.
Are there those that have passion and capacity but aren't responding to a community need? You bet. I get a call about once a month from someone, almost always from outside our neighborhood. In their own eyes, they have the best idea ever and they are asking me how to convince the neighborhood of the importance of their own project. My advice to these well-meaning folks is that to build authentic trust, they must put their 'best idea' on the shelf and go listen to the community. This is the 'felt need' concept of community organizing which simply says that to organize a group of people you don't begin with what YOU feel they need, you begin with what THEY feel they need. Concretely, the felt need concept has meant that this seminary graduate has been educating himself about the supermarket business over the past few years to try to be helpful in attracting a grocery store to the community.
Though we aspire to hit the sweet spot at Metanoia, we don't always get there. There are days when we lack either capacity or passion, or where we get too inward focused and are tempted to stop listening to the community. We need to keep adding to our capacity to accomplish all we hope to do in the coming years and maintaining a passion for the work along with a listening ear. All of these are equally essential. This diagram helps me as a leader know where we need to focus on a particular project, or if we need to focus on it at all. At times, the community may mention issues that we are passionate about, but do not have capacity to solve. My role as a leader is to build capacity within our movement to be responsive. Sometimes outsiders bring capacity and passion but they are not responding to a genuine concern of the neighborhood. My role as a leader is to redirect that capacity and passion to areas of genuine community concern. Still other times, we have capacity and are trying to respond to community concerns or opportunities, but we are worn down by the work and my job is to inspire a renewed passion to keep us focused.
Our VIN diagram also points to the essential nature of each piece of the puzzle for us. There are readers of this e-news that support our work and thus bring capacity. There are readers who inspire and encourage us to ignite our passion. Most importantly, without the community being willing to give us feedback we would be equally in jeopardy of failure. No matter which circle of our VIN diagram you find yourself in today, we remain grateful for your support! We pledge to keep listening. We pledge to keep building our capacity. And, thanks in no small part to your involvement, we pledge to keep the passion alive that has brought so much vitality to our movement.