Isoke Learns to Diversify in the Field of Operations
Our entrepreneurial spirit is on the rise at Metanoia. Isoke Fine Jewelry, a business run by our scholars in high school here in our community, has diversified their field of operations and introduced new product lines. These clever young business women and men have spun an eye for creativity and their business acumen into creating unique gift baskets and tabletop centerpieces to much success. In addition to meeting the market demand for the new merchandise, the company has voted de-gender-fication as a working model and, thus, has rebranded as Isoke to match the new direction of their product line extension.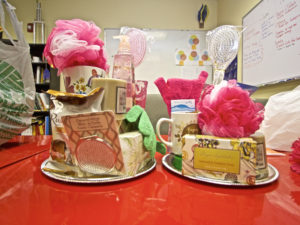 Isoke board members (our very own high school and middle school scholars) attended the Children's Defense Fund Freedom School last summer and were introduced to a workshop on floral arranging generously given by Creech's Florist in our community. Seizing the opportunity to create centerpieces for the Metanoia Jubilee last summer was the turning point in their business model.
It was at Jubilee that patron Anita Zucker discovered the newly minted Isoke centerpieces atop the tables. Mrs. Zucker was thrilled with the new direction and Isoke was promptly commissioned to create the table centerpieces centered around health and education for Mrs. Zucker's honor ceremony at the Synagogue Emanu-El called "A Star Is Born." Mrs. Zucker found our student's centerpieces so creative and thoughtful that they were donated to Chicora Elementary School. Parents then had the ability to win them as raffle prizes through community engagement at the community Health Fair, placing the intended equity back into our community.
We, Metanoia, engage in a holistic range of opportunities that are all intended to maximize our resources and generate measurable outcomes. This entrepreneurial spirit and centerpiece story comes full circle and is a great measuring stick and precious parable of what our community achieves. We are so excited to watch the orders roll in for them! If you would like to order your gem of a basket or centerpiece, please contact our student entrepreneurs at Isoke on Reynolds Avenue.